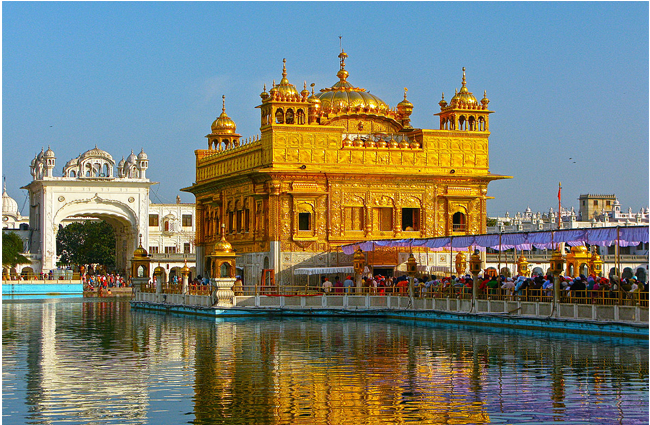 After breakfast, later visit:-Golden Temple – Also called Sri Harmandir Sahib, the most visited tourist attraction of Amritsar.
The Golden Temple was laid by Guru Ram Das in the 14th century.The Golden Temple, situated in Amritsar, Punjab, is the most sacred temple for Sikhs. It is acclaimed as one of the holiest sites of the Sikhs. It has four doorways and gorgeously decorated arches. Reflecting influences of both Hindu and Muslim styles of architecture, the temple standing in the middle of a tank, exudes tremendous architectural brilliance which draws the attention of numerous tourists around the globe. Although principally a pilgrimage spot for the Sikhs, it is visited by people of all religions and proves to be one of the greatest tourist attractions in Amritsar on your tour to India. Later proceed to visit Jallianwala Bagh – Is a peaceful park with picnicking families and college kids, but move to a section of the wall which still has visible bullet marks, and you will be reminded of one of the most horrific events in colonial Indian history.
When the Rowlatt Act (1919), which gave the British the power to arrest and imprison Indians without a trial if suspected of sedition, was imposed on Indians it was severely criticised and regular hartals (strikes) were organised to protest the law. Then Lieutenant Governor of Punjab, Sir Michael O' Dwyer, arrested an Indian leader causing great unrest among the people. On April 13,1919 (also the festival of Baisakhi) around 10,000 people gathered at the Jallianwala Bagh to peacefully protest the new law. General Dyer had been called to Amritsar to return the city to order.
He arrived at the Bagh with 150-armed soldiers, ordered the crowd to disperse and two minutes later inhumanly commanded his troops to open fire. The square was surrounded by high walls and the soldiers had blocked the only entrance (and exit) to the compound. The firing (1650 rounds) continued for about 15 minutes and people were shot as they tried to jump the wall while others drowned after they jumped into the well to escape the relentless onslaught of bullets, most of which found their mark. About 400 people (including children) died while 1500 were left wounded.
Though there was an international outcry over this horrific uncalled-for massacre neither Dyer nor O'Dwyer was ever charged with any crime. In response to this massacre, Nobel laureate Rabindranath Tagore returned his knighthood and Gandhi began his program of civil disobedience announcing that 'co-operation in any shape or form with this satanic government is sinful'. In 1997 Queen Elizabeth II visited Jallianwala Bagh and though she laid a wreath on the memorial to the victims no official apology was made. Jallianwala Bagh is a five-minute walk from the Golden Temple.
The stone well has been preserved as a monument to the victims (120 bodies were recovered from the well) and the "flame of liberty," a 45 foot flame-shaped red sandstone pillar set in a pool, was built in 1961 as a memorial. The park is open from 6 am to 7 pm in summer and 7 am to 6 pm in winter. The Martyr's Gallery which features portraits of heroes involved in the incident, is open from 9 am to 5 pm in summer and 10 am to 4 pm in winter. Evening visit Wagah Border – Located at a distance of 28 kilometers from Amritsar. It is the only border crossing between India and Pakistan. It is an army outpost to protect check intrusion from Pakistan and prevents any Indian from going to Pakistan. Special buses and taxies from Amritsar take the tourists to Wagah Border. At the border outpost there is a complex of buildings, roads and barriers on both sides. At the entrance of this outpost, there is a sightseeing gate with an inscription "Swarna Jayanti". From this a panoramic view of the landscape is seen. There are electrified fences with 66,000 volts of electric current. Later drive back to the hotel. Overnight at hotel.